Personal Child Logins (PCL) are log in details that are unique to each child. The same PIN, username and password are entered into the website each time to access the resources you have chosen to share as a lesson. Sharing lessons in this way allows you to allocate specific resources to individuals, groups or a whole class allowing you to support classroom, online or home learning.
Setting Up Personal Child Logins
Before you can share the resources with the children you will need to set the children up on the system. To do this, follow these steps:
Share Personal Child Login Details
Get a Master PIN
Once you've activated Personal Child Logins, your children will log in with the same username and password every time. They will also use the same PIN each time.
To get the PIN code for your lessons, Follow these steps:
- From the Planner, click +Manage All or go to twinkl.co.uk/go/lessons where you'll see the lessons you've created.
- Click 'Share' on one of the lessons.
- Slide the 'Share this lesson' slider to the right.
- Click 'Save Changes'.
- Make a note of the PIN code created. The PIN code will consist of two letters and four numbers e.g. JB1234
This will be the master PIN code all your children use to log in from now on (as long as you do not delete the lesson). The PIN for this lesson will give access to all your lessons.
How Children Access the Resources
Children log in at either twinkl.co.uk/go or twinkl.co.uk/go/sign-in. They:
- Enter the master PIN
- Enter their username
- Enter their password
When they first log in, you'll have given them a single-use password. They'll be prompted to create their own password and this is the password they will use each time they log in. If they forget it, you can give them another single-use password and they make a new one as they log in again.
If children are logging in on the same computer/device and you're already logged in to Twinkl, they'll need to use a different browser or incognito mode so that your own Twinkl login doesn't prevent them from logging in.
What Children See When They Log In
When children log in, they'll see all the lessons you're currently sharing with any groups they're a member of. They can click on each lesson to download or launch the resources you have shared.
If you've previously used PIN-only sharing, your children will have been used to seeing just one lesson. Now they can see everything they need to with the same login details every time.
They'll also only be able to view lessons/resources you've shared with them so it's a great way of distributing appropriate resources to the right children.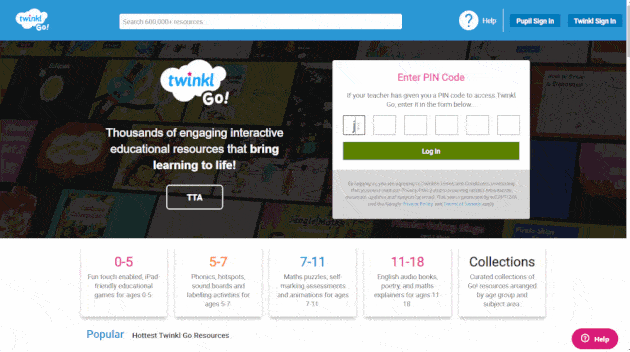 Here are some links for articles, blog posts and videos that provide further information on using Personal Child Logins to share resources.
A teacher's guide to sharing Twinkl resources directly with children
A parent's guide to sharing Twinkl resources with your children
'Personal Child Logins for Parents' videos
Facebook Live video on sharing resources