Once you have collated your chosen resources into a lesson, get a PIN code for the lesson to give to the children. Entering the PIN code on the website will allow them to download the resources in the lesson.
Creating a PIN code
For each lesson you create, you'll need to create a PIN code to share that lesson with your children.
Go to My Lessons
For the lesson(s) you want to share, click 'Share'
Move the slider to the right & click 'Save Changes'
Make a note of the PIN(s) for the lesson(s) you want the children to use and tell them the PIN(s)
Please note, PINs expire after 60 days. When a PIN expires, you can share the lesson again to get a new PIN.
How Children Access Lessons via PIN-Code
To access the resources in the lesson, children will need to follow these steps:
- Visit either twinkl.co.uk/go or twinkl.co.uk/go/sign-in on the web browser of their device
- Enter the PIN for the particular lesson you want them to use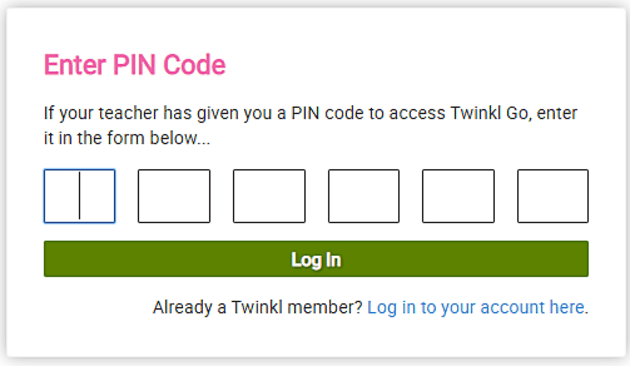 - Click 'Download' on each resource to download it to their device.
In order to see a different lesson, they click on the profile icon at the top right of the lesson page and click 'Enter New Lesson Code'. This will allow them to type a new PIN.
This method can be used by all educators and carers to share resources from their membership with their learners. Further information can be found in these blog posts:
A teacher's guide to sharing Twinkl resources directly with children
A parent's guide to sharing Twinkl resources with your children
Please do not hesitate to contact TwinklCares for further support sharing resources via PIN codes.